#Turncoats Dundee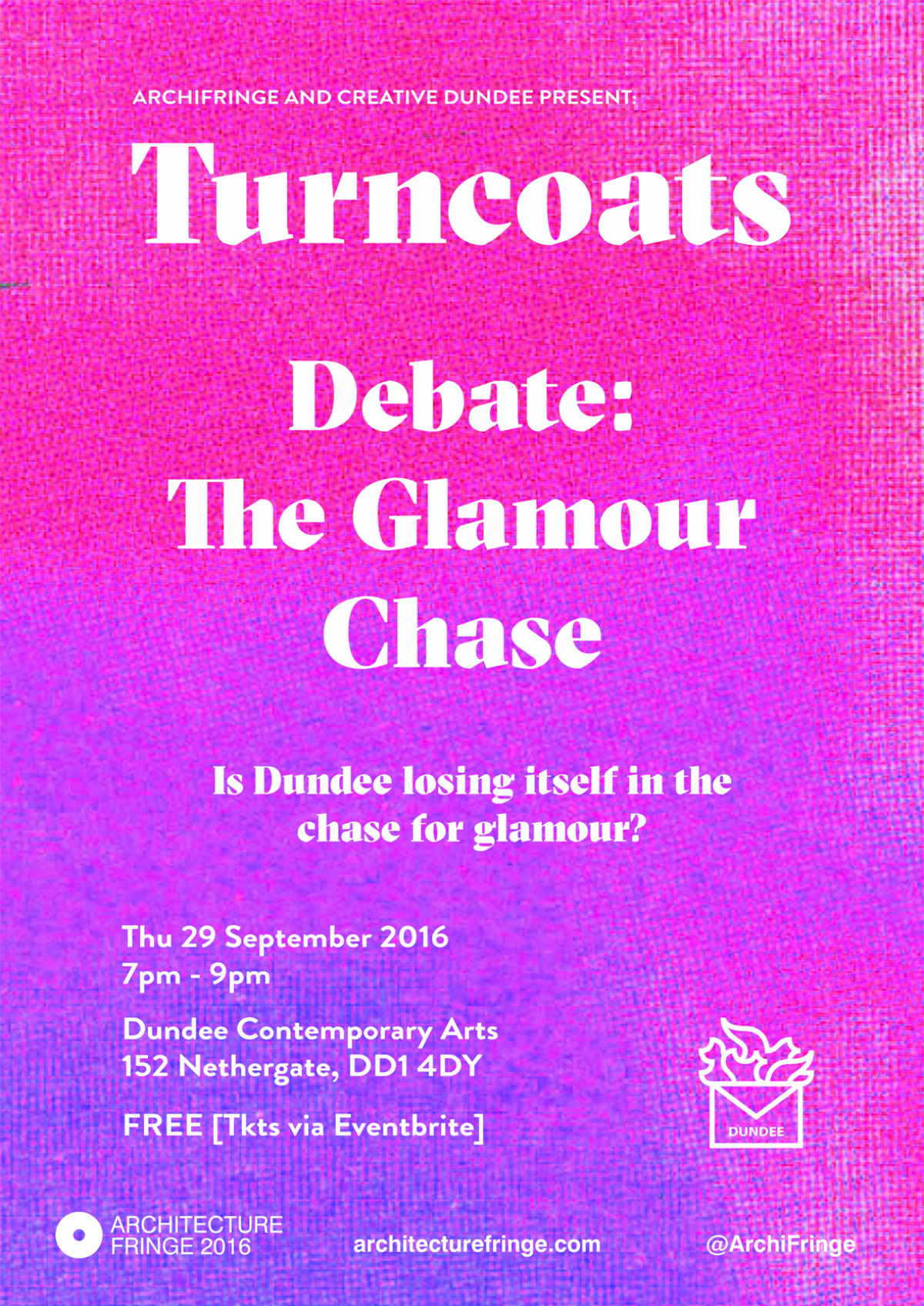 The Glamour Chase
Is Dundee losing itself in the chase for glamour?
Architectural debates are rubbish. We've all been there: a panel of similar speakers with similar views taking it in turns to talk at length about their similar work - too polite, too deferential, too dull. At best they're lukewarm love-ins, critically impotent, elitist and stuffy.
#Turncoats frames things differently. Through provocative opening gambits these free debates will take on fundamental issues facing contemporary architecture and society with a playful and combative format designed to ferment open and critical discussion, turning conventional concensus on its head.
At the first Turncoats event to be held in Dundee panelists will debate the very nature of the future city and explore how a sustainable cultural scene can be encouraged beyond the current and amazing razzamatazz.
As the new waterfront emerges into the sunshine are the city's industrial hinterlands being left behind to decay and demolition? What areas of the city and what specific buildings within them are crucial for Dundee's future?
What strategic infrastructure does the city need to nurture, both culturally and spatially, to position itself locally, nationally and internationally?
Blending humour with critical thought, join us to share your views as we move towards the halfway-point of Dundee's biggest urban transformation yet.
Thu 29 September 2016
7-9pm, doors 6:45pm
Tickets [FREE]
Dundee Contemporary Arts
152 Nethergate
Dundee DD1 4DY
Christine Palmer is President of Dundee Institute of Architects, one of six chapters of the Royal Incorporation of Architects in Scotland, who aim to promote architecture. This year in addition to their normal programme they are also organising several activities and events as part of the national Festival of Architecture including the hugely successful People's Tower: Dundee's Royal Arch project delivered in partnership with Claire Dow. Christine is also a Chartered Architect with her own practice in Anstruther, Fife working on a variety of domestic and small-scale commercial projects. Christine believes that good design improves quality of life and is always keen to publicise the excellent work being undertaken locally and encourage people to get involved in influencing decisions that will affect not only themselves but future generations.
Siôn Parkinson is an artist, singer and curator. For over a decade, Siôn has worked for a number of arts organisations as a producer and curator. In this time he has commissioned several key works by emerging artists including Rachel Maclean, Marianna Simnett, Hardeep Pandhal, Serena Korda and Ilana Halperin. Siôn is currently working with ATLAS Arts and London-based arts organisation Artangel on a year-long project on the Isle of Skye exploring singing and the sea. Working with artist Bethan Huws and musician Richard Skelton, the project draws on Siôn's twin interests in singing and art. He is also the producer for Dundee Design Festival, a job in which he's keen to stress local design stories with the potential to improve people's lives, both here and around the globe.
Joanna Helfer is a multi-disciplinary artist working in Dundee, graduating from DJCAD in 2009 with a degree in Time Based Art. She co-founded Tin Roof – an artist led charity aiming to serve the city's creative community. She also works as a youth arts worker at Hot Chocolate Trust where she currently leads the Time to Shine Digital project, funded by Creative Scotland. She think it's important to discuss the idea of a 'sustainable cultural scene' as it highlights the potential for cultural development to only serve a minority of the city's residents, leaving the majority out in the cold. I hope we can be a city which sees the role of culture as an agent of change in addressing the widespread poverty experienced by so many of our citizens.
Graeme Hutton is Professor of Architecture and Associate Dean of Learning and Teaching at the University of Dundee. He is an architect who has been engaged in practice and education for over twenty years. Working with Dundee's LJR+H Chartered Architects, his designs have been widely exhibited including at the Venice Architecture Biennale and Royal Academy. 'Drummond House – The Shed' has won numerous architectural awards, including a 2009 RIBA Award. It has been published internationally in the professional and popular press including The New York Times. The recently completed 'Zinc-House' is selected as one of the RIBA/Grand Designs 'Best House in Britain 2016' and has recently been filmed by Channel 4 for broadcast in November this year. As a teacher he continues to use the City of Dundee as a context to explore the potential of architecture as an agent of social and cultural transformation.