Common Ground / Common Good - (Un)Learning Land
12 June
Core Programme
Online
Discussion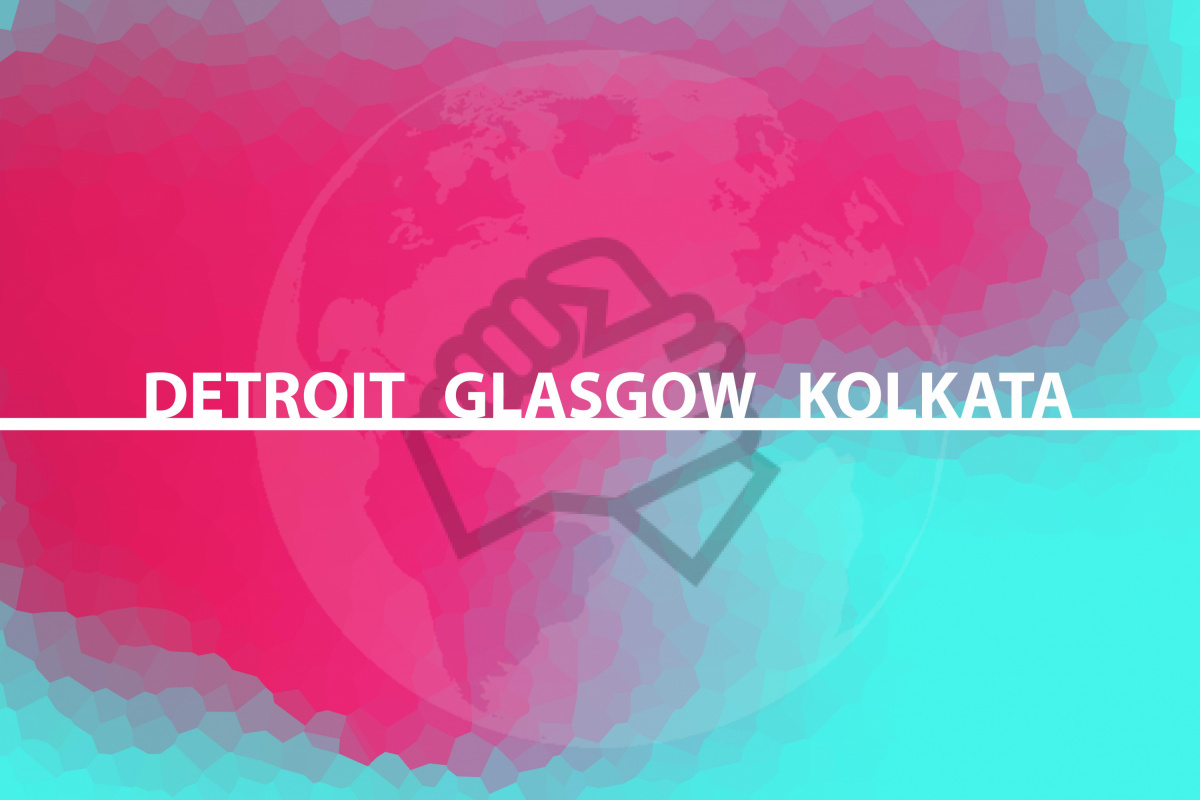 Event Summary
Examining relationships to land and connecting voices in Detroit, Glasgow, and Kolkata to explore pluralities and common areas of concern in community development and organising, strategic activism, and cultural sustainability at neighbourhood level.
Book here
Time
7am-9am EST / 12pm-2pm BST / 6:30pm-8:30pm IST
Date(s)
12 June
Organiser
Architecture Fringe
Social
Common Ground / Common Good - (Un)Learning Land
With
Eastside Community Network (Detroit), Govanhill Baths Community Trust (Glasgow), Southern Avenue Street Vendors (Kolkata)

Connecting voices in Detroit, Glasgow and Kolkata to explore pluralities and commonalities. These voices will examine relationships to land and common concerns in community development. What do organising, strategic activism and cultural sustainability look like at neighbourhood level?

Three localities across the world with varying commonalities and historic connections come together. Despite their uniqueness, there is much to tell, share and (un)learn from. This project seeks to provide a context to meet, exchange and listen. Conversations will delve into deep community wisdom, knowledge and lived experience. The discourse will shed light on nuanced and often complex relationships to land.
Through discussion and later cultural work voices from the localities will tell their communities' stories, sharing what challenges and acceptances they have overcome or encountered, how they organise and what strategies are deployed in support of the commons. Drawing on inspiring international examples of historic and contemporary land movements and occupations, the work will explore the intersectional power dynamics associated with land through aspects such as cultural importance, social occupation, ownership, stewardship, value systems, access and environmental management.
A starter event will take place on Saturday 12th June 2021. The communities will introduce themselves and explore these aspects through presentation and dialogue. A follow-up event will see further cultural work presented throughout the summer.
Contributors:

Eastside Community Network
Based in Detroit's Eastside, the Eastside Community Network spearheads initiatives that promote social cohesion, neighbourhood sustainability, community participation, and resident empowerment.
The ECN's team implements and facilitates programs and projects to support the local community, with a specific focus on climate equity, community organising & planning, business & economic development, youth development, and wellness & resilience hubs.
The ECN's own podcast Authentically Detroit, hosted by Donna Givens Davidson and Orlando Bailey, takes a comprehensive look at contemporary issues such as housing, spatial racism, economic development, neighbourhood planning, self-care, and community trauma, and how they impact Detroit.
Govanhill Baths Community Trust
Govanhill Baths Community Trust, located in the Govanhill area in the Southside of Glasgow, is a grassroots activist-based organisation in the heart of the neighbourhood delivering wide-ranging health, wellbeing, arts, environmental and heritage projects. Following 20 years of campaigning, their aim is to reopen the baths as a Wellbeing Centre, contributing to the regeneration of the area and meeting the needs and aspirations of the local community. The Govanhill Baths building is now closed to the public for refurbishment, but services continue at a variety of venues in Govanhill.
Southern Avenue street vendors with Mansara
Mansara, Centre for Study, Conservation, and Development of the Built Heritage - a non-government organisation based in Kolkata, seeks to bring out the complex relationship around the use, ownership, and dispute over land, both urban and rural, through engagement and amplification of people's voices. The overall objective of Mansara is to provide support to projects related to education, research, planning, and management of sustainable services and infrastructural development (both rural and urban) in the social sector, along with research, development, and conservation of historic sites, housing, and environment.
The focus of all efforts are towards the most vulnerable in society including the socially and economically depressed, with special emphasis on women and children. Since inception, Mansara has been primarily involved in sensitisation workshops, research and training, and outreach programs that encourage holistic and sustainable urban re-development through community participation.