Practice, Practise | Roundtable 2 - (Un)learning architecture (looking out)
16 June
Core Programme
Online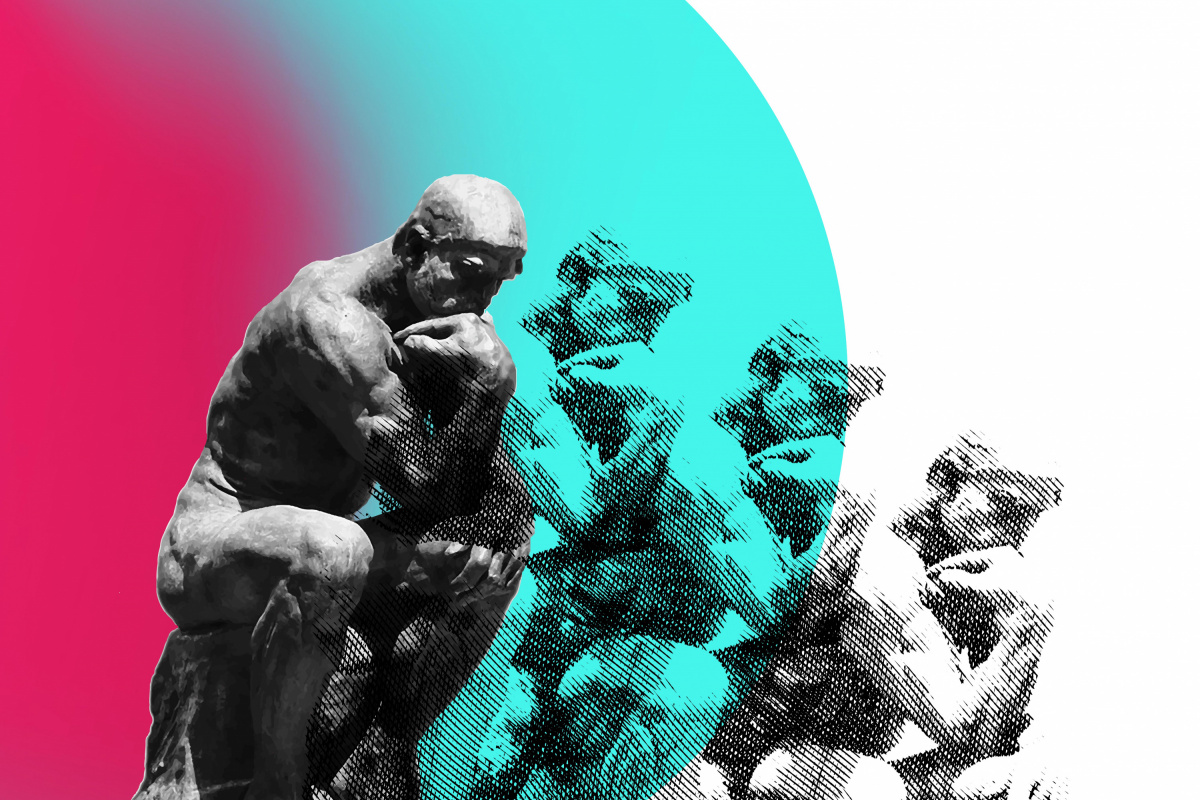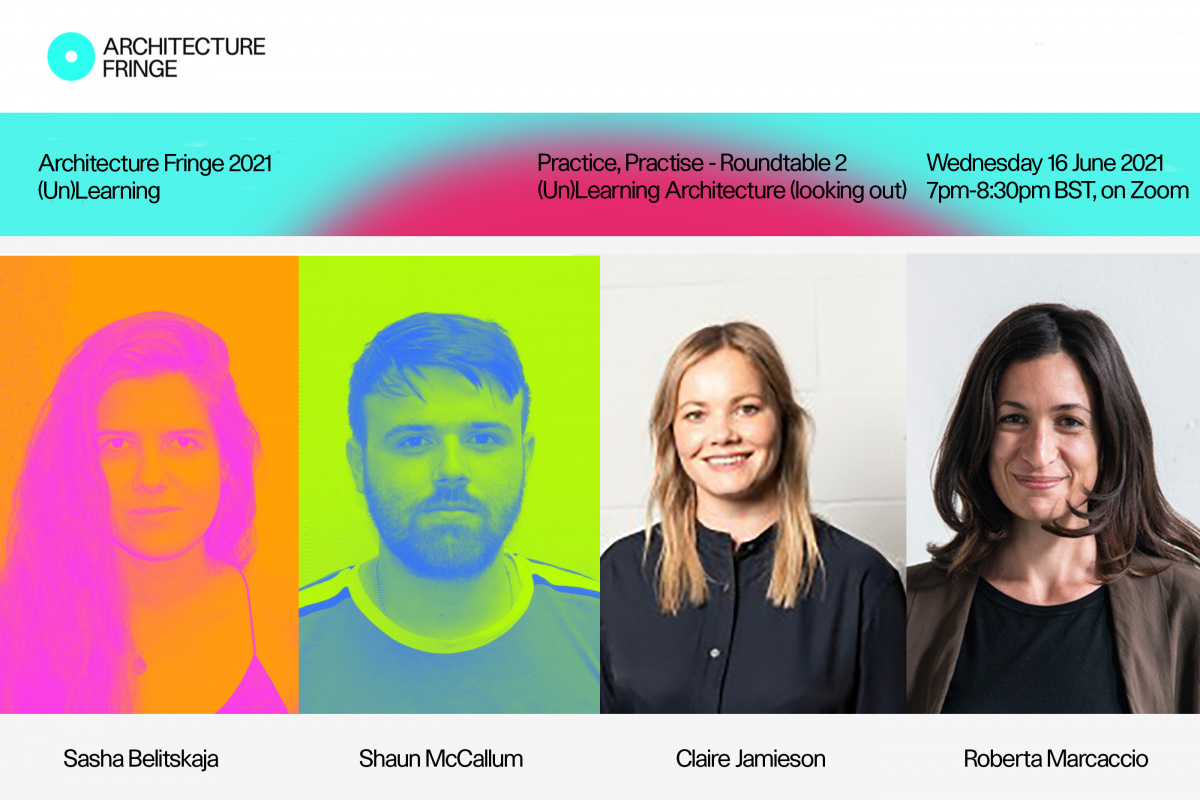 Event Summary
An evening of talks and provocations looking at the way we practice architecture, both now and in the future.
Book here
Time
7pm-8:30pm BTS
Date(s)
16 June
Organiser
Architecture Fringe
Practice, Practise | Roundtable 2 - (Un)learning architecture (looking out)
With
iheartblob, Public Practice / Claire Jamieson, Architects After Architecture / Roberta Marcaccio
Chair Chris Speed
Practice, Practise seeks to explore current conditions of practice for architects and those working with/for the built environment. Through a process of unlearning and building anew, we look to generate speculative proposals for future practice addressing its values, systems, modes of operation and types of work.
The concluding part of two panel discussions, Roundtable 2: Unlearning Architecture (looking out) focuses on the delivery of architecture, exploring different types and methods of work and crossovers from related disciplines to consider alternate pathways to practise architecture.
Why is the architectural practitioner's skillset so easily transferable and recognisably valuable to other industries, yet their role is increasingly diminished in the construction industry? Can practitioners be encouraged to think beyond the horizons of traditional practice, to deploy their skills and training in other ways? How is the Architect and profession stereotyped and what can we do to challenge this, with a renewed understanding of their social role and function? How can we explore new possibilities for architectural thinking, constructing and being, to respond to the crises of our time?
We will be inviting three panellists to prepare short provocations, to unlearn how we practise architecture currently and imagine a new future for architectural practice.This will be followed by facilitated discussion between the contributors and the audience.
Confirmed panellists:

iheartblob
iheartblob is an award winning architectural design studio and research collective formed by Aleksandra Belitskaja, Ben James and Shaun McCallum. Their work is expressed through mixed reality objects, real-time renderings as well as custom designed architectural software and has been exhibited across the globe including Storefront for Art and Architecture, New York and A+D Museum, Los Angeles.
Web: https://www.iheartblob.com
Instagram: https://www.instagram.com/iheartblob/
Facebook: @studioiheartblob
Public Practice / Claire Jamieson
Public Practice is a not-for-profit social enterprise founded in September 2017 by the Greater London Authority, with a mission to improve the quality and equality of everyday places by building the public sector's planning capacity. They have created a unique professional placement programme offering professionals currently in the private sector an attractive route into working for the public sector whilst also celebrating and capturing leading industry knowledge and sharing it across the wider sector.
Claire Jamieson is an architecturally trained academic and researcher, with over nine years experience as a lecturer, currently leading on Research & Development for Public Practice. Prior to entering academia, she led the RIBA's think-tank Building Futures, most notably authoring 'The Future for Architects?' – challenging the profession to consider its changing roles.
Web: https://www.publicpractice.org.uk/
Instagram: https://www.instagram.com/practicepublic/
Twitter: @PRACTICEPUBLIC

Architects After Architecture / Roberta Marcaccio
Roberta Marcaccio is an editor, educator at the Architectural Association (AA), and a researcher collaborating with various architectural practices. Her latest book with Dr Harriet Harris and Rory Hyde, Architects After Architecture, was published by Routledge in 2020.
She was previously Head of Research and Communication at the London-based architecture and urban studio DSDHA from 2015-19 and, in 2016, was awarded a 2-year Research Fellowship in the Built Environment by the Royal Commission for The Exhibition of 1851 to study the future of cycling and urban mobility in London.
She has lectured widely in the UK and internationally and her writing has featured in AA Files, Blueprint and in the books Real Estates: Life Without Debt (Bedford Press, 2014) and Erasmus Effect. Italian Architects Abroad (Quodlibet, 2014).
Web: https://architectsafterarchitecture.com / http://marcaccio.info
Twitter: https://twitter.com/marcarobe / @marcarobe

Chris Speed
Prof. Chris Speed FRSE, is Chair of Design Informatics at the University of Edinburgh where he collaborates with a wide variety of partners to explore how design provides methods to adapt, and create products and services within a networked society. Chris directs the Institute for Design Informatics that is home to a combination of researchers working across the fields of interaction design, temporal design, anthropology, software engineering and digital architecture, as well as the PhD, MA/MFA and MSc and Advanced MSc programmes. Chris has been involved in 39 research projects since joining the University of Edinburgh, leading on 18 worth a total of £9.9mil and Co-Investigator on 21 projects worth in excess of £55mil. Chris is Director of the £6mil (£5.5Mil AHRC & £0.5Mil SFC) Creative Informatics R&D Partnership, one of the nine AHRC funded Creative Industries Clusters in the UK, and is Co-I to the Next Stage Digital Economy Centre DECaDE led by Surrey with the Digital Catapult. Chris was made a Fellow of the Royal Society of Edinburgh in 2020.